About Atlanta Drone Cleaning and Soft Washing Services
A clean home, commercial space, or vehicle makes a statement – so be sure yours stands out with professional services from Atlanta Drone Cleaning. With a passion for all things pressure washing, our Pressure & Soft Wash Services offers residential and commercial customers access to the newest and safest drone cleaning technology. With operations in Georgia and Tennessee, Atlanta Drone Cleaning is a licensed and insured business that is fully equipped with professional systems to have your space looking new in no time.
Atlanta Drone Cleaning and Soft Washing Services specializes in the use of drones for high and low-pressure washing. Our services obtain the best possible results with well-trained, knowledgeable employees. There is constant attention to the importance of a residential or commercial property in an individual's life; and with a dedication to excellence, all properties are left in pristine condition free of caustic and damaging cleaning solutions. Our soft washing services are a perfect solution for your home that is in need of roof cleaning, house washing, deck cleaning, fence cleaning or patio cleaning. No matter what area of your home is dirty, our safe and low-pressure, soft washing services can clean it up all in a day's time with no risk of damaging your property from high-pressure wreckless washing.
Our company remains focused on the bottom line – the safety of our clients, their pets, and their properties. Atlanta Drone Cleaning will never touch your property with a product we would not use on our own.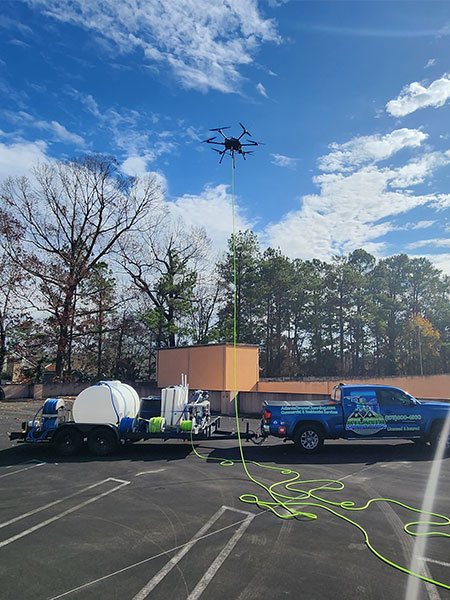 We're Comitted To Your Happiness
Super Awesome benefits for you to enjoy...
Ready To Restore Your Property?